APOC 13-3 Graduates
With 100 Fellows
One hundred American and international Fellows graduated from the Asia Pacific Orientation Course (APOC), Nov.4 at APCSS. This was the third edition given within the year, signifying the popularity of the course amongst various on-island major component commands, civilian counterpart agencies and regional partnered nations including Australia, Brunei, Canada, Singapore and Republic of Korea.
More
APCSS-NZDF
CSC Joint Workshop
APCSS hosted a joint workshop Nov. 4-7 with the New Zealand Defense Force (NZDF) Command and Staff College (CSC). This capstone event included multi-national participation of 56 military and civilian representatives from New Zealand, Australia, Indonesia, Malaysia, Papua New Guinea, Republic of Korea, Singapore, Tonga, and the United States.
More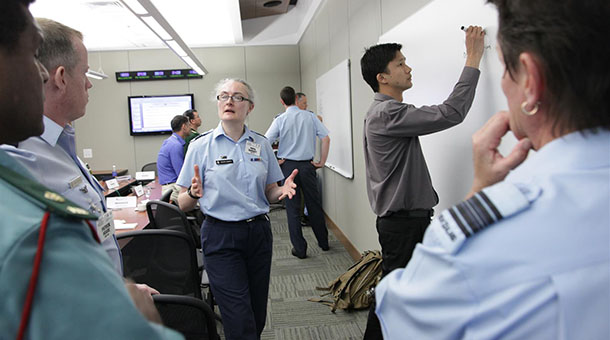 APCSS First
Brown Bag Lunch Webinar
On November 6, APCSS hosted its first brown bag lunch seminar that was simultaneously live-streamed as a webinar. Entitled, "Security Implications of Recent North Korean Behavior," the hour long presentation and discussion was provided by APCSS Director, retired Lt. Gen Dan "Fig" Leaf.
More
Philippines General
Bautista visits APCSS
Chief of Staff of the Armed Forces of the Philippines Gen. Emmanuel T. Bautista (an APCSS Alumni) visited today where Director Lt. Gen. (Ret.) Dan Leaf provided an overview of the Center's current activities and security education opportunities. Gen. Bautista was accompanied by Maj. Gen. Jeffrey Delgado (EC01-1/C01-03), Deputy Chief of Staff and Col. Padilla, USPACOM Liaison to the Philippines.