"Charting the Future"
Water Security Workshop
APCSS's Dr. Virginia Bacay Watson leads a seminar discussion during the workshop "The U.S.-South Asia Leader Engagement Program: Charting the Water Future of South Asia." Co-hosted by the APCSS, the Near East-South Asia Center for Strategic Studies and the John F. Kennedy School of Government, the workshop was held April 28 to May 3 at Harvard University.
More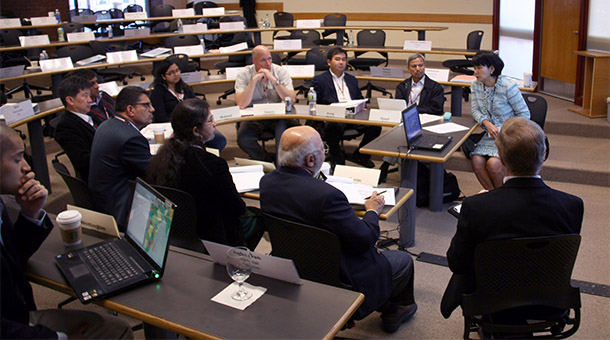 APCSS Employees
Honored at FEB Luncheon
APCSS Director Lt. Gen. (Ret.) Dan Leaf, a presenter at the ceremony, "high fives" with the Mentor of the Year award winner Navy Lt. Cmdr. Ryan Perry, one of 13 APCSS employees recognized today at Honolulu-Pacific Federal Executive Board's (FEB) 57th Annual Excellence in Federal Government Awards luncheon at Hickam AFB Officers Club.
More
ASC 13-1
Concludes with 101 New Fellows
Mr. Nebuchadnezzar Salamat Alejandrino, Chief of the National Defense Information Management Office of the Republic of the Philippines (right) presents the course banner with APCSS Director Lt. Gen. Dan Leaf USAF (Ret.) (left) during the graduation ceremony for the Advanced Security Cooperation Course 13-1 May 8, 2013.
More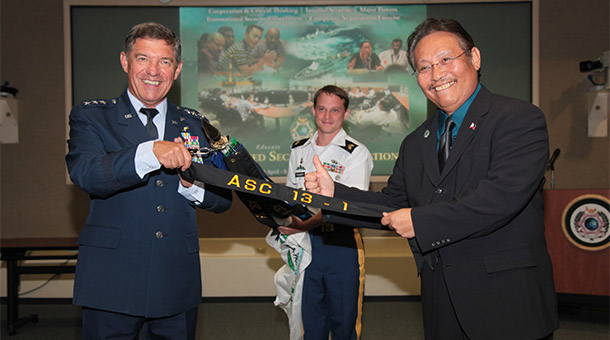 Rep. Colleen Hanabusa
Addresses ASC 13-1
Hawaii Rep. Colleen Hanabusa and Mr. Allen Doane (seated yellow shirt) joined APCSS Director Lt. Gen. (Ret.) Dan Leaf on the lanai at the Center to speak to ASC 13-1 Fellows on the topic of "Whole of Society" during a working lunch Apr. 29.