COMPACFLT Admiral Harris
Addresses ASC 14-2
Adm. Harry B. Harris, Jr., Commander, U. S. Pacific Fleet visited APCSS today to address the Fellows of Advanced Security Cooperation (ASC) Course 14-2 in the APCSS Auditorium.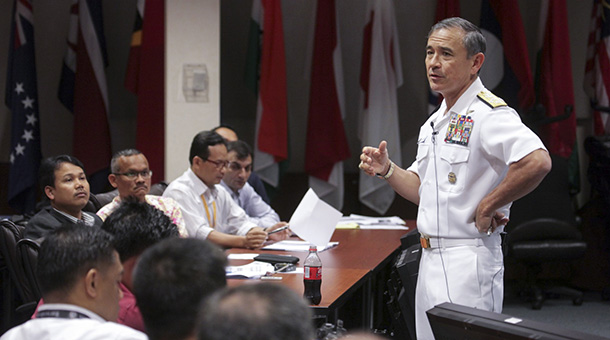 Rear. Adm. Austin Conducts
'Brown Bag' at APCSS
Rear Adm. Meredith Austin, Chief of Staff, 14th Coast Guard District, visited APCSS today to conduct a "Brown Bag" luncheon in Maluhia Hall on the topic of Women, Peace and Security.
APCSS FPA Steps Down
AMB Charles Salmon leaves APCSS
Ambassador Charles B. Salmon has departed the Asia-Pacific Center for Security Studies after a long and successful period of service. A founding member of the Center, he served as the Foreign Policy Advisor and a faculty member.
More
28 Senior Execs
Complete TSC
14-1
Twenty-eight senior executives from 26 locations completed the Transnational Security Cooperation (TSC) course March 28 at the Asia-Pacific Center for Security Studies in Honolulu.
More