A New Ohana:
109 Fellows Complete ASC
14-1
One hundred nine senior military and civilian government leaders from 32 locations graduated today from the Asia-Pacific Center for Security Studies "Executive Course: Advanced Security Cooperation."
More
APCSS outreach team conducts
Info-Sharing Workshop in Manila
An Asia-Pacific Center for Security Studies (APCSS) outreach team conducted a three-day workshop entitled "Exploiting the Crime-Terror Nexus: Combating Violent Extremism through Multisectoral Information and Intelligence Sharing" in Manila Feb. 11-13.
More
USARPAC Commanding General
Gen. Vincent Brooks addresses ASC 14-1
Commanding General U. S. Army Pacific Gen. Vincent Brooks visited APCSS today to address the Advanced Security Cooperation Course (ASC) 14-1 in the Auditorium. At the conclusion of Gen. Brooks' presentation, he answered questions from the ASC Fellows.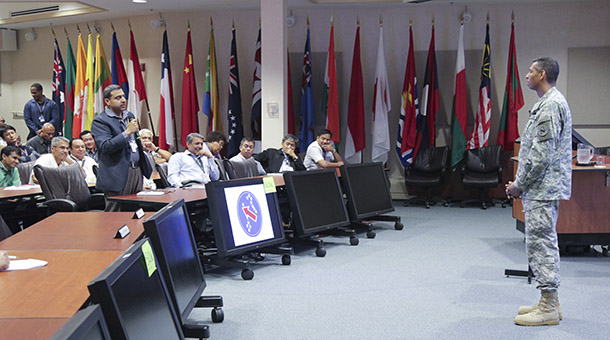 Kenji Wakamiya,
Parliamentary Vice-MOD Japan visits APCSS
Kenji Wakamiya, Parliamentary Vice-Minister of Defense, Japan, visited APCSS Jan.22 for an overview of the Center's current activities and security education opportunities provided by APCSS Director Lt. Gen. (Ret.) Dan Leaf..